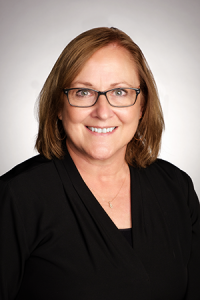 Number of years as cooperative members: 18 years
Place of birth: Jefferson, Iowa
High school attended: Jefferson Community High School
Additional education: I graduated from Iowa Central Community College, then went on to further my education at Northwest Missouri State University. I graduated in 1986 with a bachelor's degree in accounting.
Relevant professional experience: I have been employed in service-oriented positions throughout my career. It is important to improve technology, services, and products to better serve customers along with sustaining and growing an entity. I have experience with software conversions and improving processes and services, and I recognize the importance of those changes.
Organizations, clubs, and associations: I am a member of the Panora Methodist Church and PEO Chapter BY. I am an active member of the Panora Chamber of Commerce and a past Secretary. I have served on the Administrative Council at Panora United Methodist Church and Keokuk United Methodist Church. I volunteer at track and cross country meets for the Panorama Community School.
Current occupation: I am employed at Iowa Trust & Savings Bank as a Loan Administration Representative. My responsibilities are loan processing with emphasis on consumer real estate loans, escrow processing, and assisting with our customers' needs.
Family: I am married to Chris Hastings, who is employed at Alliant Energy. We have two grown daughters, Kelsey and Anna.
Reason for running: I value small communities as a great place to live and raise a family. I want to see our county continue to thrive. When we moved to Panora in late 2004, I recognized Panora Fiber as a progressive communications utility that invests back into the area. Being part of this board that continues to look at the future while actively keeping our area stable and growing is important to me. I am honored to serve on this board.